Check-in information

/ Informazioni per il Check-in
Form to complete once before checking-in / Da compilare una volta prima del check-in
1 PLEASE LET US KNOW AS SOON AS POSSIBLE YOUR ARRIVAL TIME, FEW DAYS BEFORE AT LEAST, it's really important for us to organise the cleaning and check-in.Thank you.
2 Please send a text to: +39 333 89 21 851 just writing your arrival time 2 hours before at least. If you're late please let us know as soon as possible.
Check-in time: 14:00-00:00 (if you want to arrive later let us know, we can find a way).
3 NEXT TO THE DOOR THERE'S A LOCKBOX WITH THE KEY, FEEL FREE TO GO INSIDE MY HOUSE
4 ON YOUR LAST DAY REMEMBER TO LEAVE THE KEY IN THE LOCKBOX
5 Check out time: before 11:00 o'clock.
1 MI RACCOMANDO DI FARCI SAPERE ALMENO QUALCHE GIORNO PRIMA L'ORA D'ARRIVO AL FINE DI ORGANIZZARE IL TUTTO AL MEGLIO.
2 Inviate cortesemente un messaggio almeno 2 ore prima del vostro arrivo al: +39 333 89 21 851.
Ora d'ingresso: 14:00-00:00 (nel caso doveste arrivare più tardi fatecelo sapere quanto prima per trovare un accordo).
3 ACCANTO ALLA PORTA D'INGRESSO TROVATE UNA PICCOLA CASSAFORTE CONTENTE LE CHIAVI,SENTITEVI LIBERI DI ENTRARE PER ORGANIZZARE LE VOSTRE COSE.
5 L'ULTIMO GIORNO RICORDATEVI DI LASCIARE LA CHIAVE NELLA CASSAFORTE.
6 Ora d'uscita: prima delle 11:00.
Download here all instructions for your check-in
Scarica qui tutte le istruzioni per il check-in
PARKING (only for house 1 and 2)
Please just one car inside, normal size, if it's a big one you have to park it on the main street ( " Via Marconi " ) not in the tight street in front of the gate which is private. If you have more than one car park them on the main street. Pay attention to the signs, yellow lines mean that it's not allowed to park.
PARCHEGGIO (valido solo per la casa 1 e 2)
Un solo posto auto di fronte a casa per macchine di taglia media, i pulmini dovranno essere parcheggiati esternamente, chi ha più macchine parcheggi le restanti sulla via principale "Via Marconi" (non nel viottolo privato che conduce alla casa).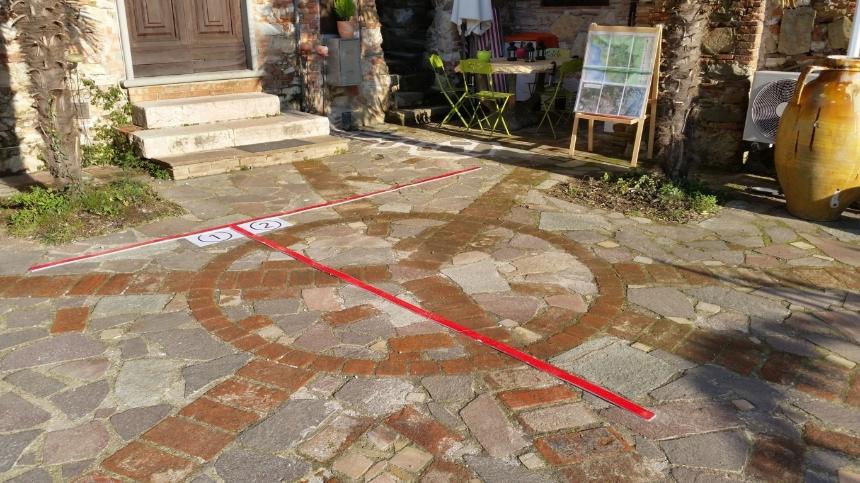 How to get there ?

/ Come arrivare ?
Address

/ Indirizzo : Via Marconi 46, Filettole, Vecchiano, Pisa 56019
GPS : 43.815644 , 10.404970
If you don't find "Via Marconi", look for

: Via gambacorti, Vecchiano 56019

Public transport

/ Trasporto pubblico
·
Bus stop " Via Gambacorti " 50 metres away from the house

/ Fermata autobus "Via Gambacorti"

·
Train station 1km away
/ Stazione ferroviaria a 1km: "Fs RIPAFRATTA"

·
Car recommended

/ Auto consigliata
How to reach my house by bus ?
Take the bus 80 from the bus station which is close to the main train station of Pisa ( Pisa Centrale ).
The stop is : "via Gambacorti", 3 minutes' walking from my house.
It takes about 30 minutes to reach the bus station of Pisa.
How to reach my house by train ?
Take the train to Lucca from the main train station of Pisa ( Pisa Centrale ).
The stop is : Ripafratta, 20 minutes' walking from my house.
It takes 12 minutes to reach PISA CENTRALE.
From the airport of Pisa

/
Dall'aeroporto di Pisa
(a taxi costs about 30 euro from the airport, ask first to the taxi driver to be sure about that)
From the train station of Pisa

/
Dalla stazione dei treni di Pisa
From and to the nearest high way

/
Da e verso il più vicino casello autostradale
PISA NORD MIGLIARINO
About Filettole (PISA)
Where's my house ?
It's a quiet village surrounded by Nature in the middle of Tuscany!
It's a safe place and you will experience a typical tuscan countryside. In the village there's all you need : supermarket, bar, tobacco shop, restaurant and so on.
Have a look of the following images to understand where the house is located: